LED Landscape Lighting Design: What Lights to Use and Where to Use Them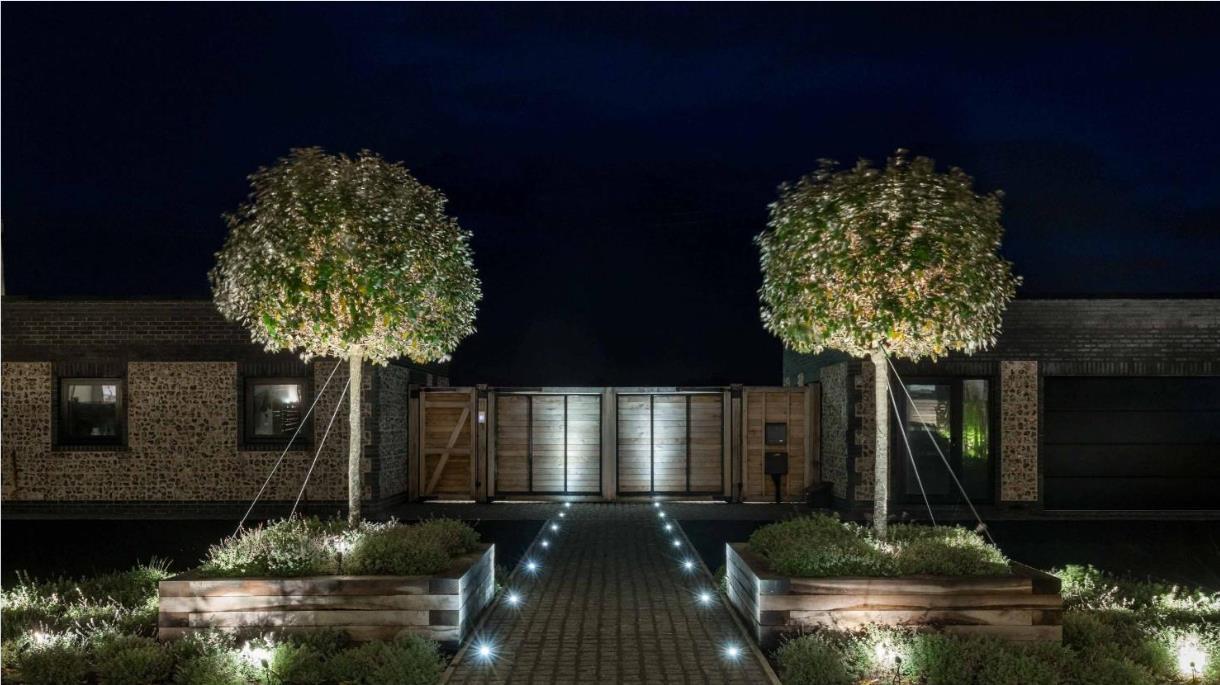 LED
landscape lighting
is a great way to dress up your yard and show it off, but there are many different options for achieving this. The first step to adding light to your yard is knowing what you want to highlight. You might not know that there are many ways light can be used to achieve interesting, eye-catching outdoor designs.
Next, we'll go over the types of lights available, the effects they produce, and where they're commonly used. LED landscape products include spotlights, paths, floods, hardscapes, steps/decks, ponds/fountains, wells, and paths. For each type of light, there are options for brightness, color, style, and additional features, read on to find out where to use these lights.
Trees and shrubs
Spotlight
Make trees, plants, or shrubs stand out with LED spotlights. Mount them on the ground and adjust their aiming heads to where the light is needed. This is not to say that the light has to come from below. You can also use these lights on trees to achieve a moonlight effect.
When mounted at the correct height (usually between 15-30 feet) and properly tilted, the ground below appears to be lit by the moon rather than an obvious light source. This is perfect for a patio or seating area.
Well lamp
Place the LED well light on the ground under the tree, shrub, or plant you want to illuminate. If you want to light the trunk and crown of a large tree, you may need several well lights. You can choose your color temperature (cool white, natural white, or warm white), or choose an RGB fixture if you want to choose from many vibrant color options and color-changing modes.
Floodlight
LED floodlights have a wide beam angle and are ideal for illuminating large bushes or shrubs on the side of a house or building. The farther you place the lights, the more area you can cover.
House features (pillars, porches, eaves, walls, etc.)
Spotlight
Spotlights can be used to highlight the architectural features of a home. Install them at the base of a wall, or align them with porch posts. You can also use them for downlights on the side of the house or under the eaves.
Floodlight
Light up part or the entire front of your home with these wide-beam light fixtures. Choose from cool, natural or warm white temperatures, or choose RGB floodlights to illuminate your house in any color imaginable.
Well lamp
LED well lights are great for accentuating porch columns or the side of a house. They mount flush to the ground and emit lighting that extends vertically from bottom to top (depending on how high you are lighting).
Statues, flags, and other courtyard structures
Spotlight
With LED spotlights, you can illuminate anything from fountains and gazebos to statues and flags. Choose an intensity appropriate for the objects you are highlighting. If you can't imagine how much light is enough, think about the size of what you're fighting. Smaller objects require lower lumen output and vice versa for larger objects.
In addition to basic highlighting, you can use different techniques to illuminate structures.
Silhouette:
Spotlights are placed behind the structure and aimed at adjacent walls. Using this technique, you will see the shape of a statue or structure against a bright background.
Scallop:
A spotlight is placed behind an object and aimed up at a wall at an angle, creating a sharp cone of light. This creates an interesting effect where the outline of the object is all you see on the beam on the wall.
Shadow:
Lights are placed in front of plants or other objects to cast their shadows on the wall.
Floodlight
Large yards or house structures can benefit from a wide beam. Different mounting options are available for mounting the floodlight on the side of the house, on top of a railing or on the ground.
Well lamp
Well lights look great when placed at the base of statues, fountains, mailboxes, or other patio structures. You can also place them around the gazebo or at the bottom of deck posts or other posts/pillars.
Garden or rock/covered bed
Path light
These means are not limited to paths. When installed in a garden, they emit a soft glow, illuminating a small surrounding plant, rock, or mulch. There are a variety of decorative styles to choose from.
Spotlight
You can place spotlights in gardens or within rock/cover beds to target single plants, shrubs, or trees. You can also install them outside your garden or beds to light up an entire area or a few plants at a time.
Well lamp
LED well lights are the perfect addition to small gardens or rock/covered beds. Use these fixtures to reveal details of specific plants, small trees, or flora.
The above briefly introduces the different types of landscape lights that should be used in different scenarios. If you want to buy landscape lights, please
contact us
.
TFB Lighting is a professional
custom outdoor lighting manufacturer
. The company mainly produces all kinds of garden lamps, floor lamps, lawn lamps, wall lamps, underwater lamps, wall lamps, spot lamps, street lamps, solar energy and landscape lighting and other products. There are many varieties and high quality, which are widely used in decorative lighting of various roads, squares, parks, villas, pedestrian streets, garden communities and other places.